Uncategorized
Did you know you can do reverse searches for an image?
If you have an image that you found and want to know where it came from, you go to google, click on the images tab. Then you will see a little camera icon on the right side before the search icon. upload the image you want to know about and you'll get a listing of all the places (or the one place) that the image lives. You could use this to find who's been using images you have the ownership of, or to find a website explaining something or even find out where you can buy a copy of it if you'd like to use it for your website! Cool huh?
Here is a great article about public wi-fi and why you have to be very careful when you use it.  What you have on your phone, may be accessible to any hacker that is there to take advantage.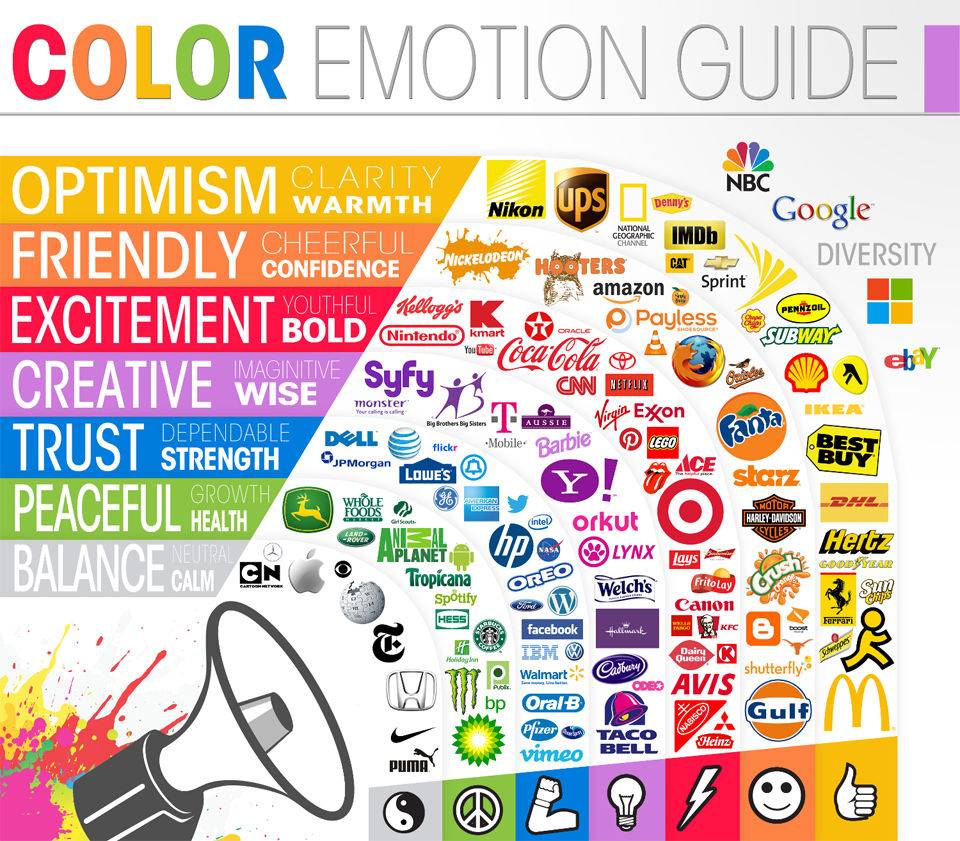 There was a great blog post a while ago that talked about the emotion of colours and how certain companies took advantage of this. They have a great infographic to illustrate it (right) and if you click on the link above, you can see the whole article and the companies that match each colour and corresponding emotion. Very interesting.
It was with sad news that the man who invented the mouse, passed away on 2nd July in his sleep at the age of 88.  His name was Douglas Engelbart, and he didn't make any money from his idea or some of the other ideas that he talked about in an hour long presentation way back in 1968 in San Francisco.  He also showed his audience a demonstration of talking to a colleague 48 kilometres away at the same time.  That was the first video conference!
Check out Wikipedia's post about him here.
The little button at the top of my iPod (the sleep/wake)stopped working about a month ago.  So I could only use the menu button and then I had to wait for the ipod to sleep itself in order for the screen to go black.
A friend told me about this fellow in Peterborough who she found online that fixed iPods, iPhones and iPads.  She bought a iPhone online that was a second and had a screen that was so dark, she could hardly read it.  She took it to this guy and he had it as good as new in just a couple of hours.    I emailed him late on Wednesday to ask if I could drop it off on Thursday as I had some other appointments in Peterborough.  He said to come at 11:30am.  I got there about half an hour early (I forgot to bring his phone number with me) and he was very pleasant and said to come back in 40 minutes.  I came back about an hour an a half later, and my ipod was all fixed and it cost me $40.
Don't be put off by the fact that it is out of his home, he does good work and I would rather have gone there than had to deal with Apple (and do we even have an Apple store in Peterborough?)
Check out his site at bananaservice.ca to book an appointment or get a quote.
What on earth does this have to do with computers, websites or anything serious?  Absolutely nothing.  But I was reminded the other day of a great card I have that says something like "Size 10 cat in a size 7 1/2 shoe box".  This is pretty funny.
A fun video of Starlings doing a beautiful dance.
The May version of my Newsletter was published last week.  Please check out the news page to read it, or sign up with the form on the left of the page and get them sent to you each month.  I only send out one a month (if I manage it) and promise not to forward your details to anyone.
I do, I have so many stories, information and stuff to say, but what with clients, taxes and just plain craziness, I haven't have time!
In the meantime, there was a lovely article written about ME by a client in a local paper called  CAPS last month.  Here is a link to her blog and a thank you to my client, and now friend, Leanne Megarry of the Dark Horse Studio.  To read all about it, click here!
And if you are in Sunderland and want to see a great antique/gallery, you must go see her shop.  It has so many wonderful items.