By now, everyone has heard of the Heartbleed Bug and how it is affecting security all over the world.
How does it work?
Here is a comic that explains how it works.  It basically asks for various responses from your computer, and then tricks it by asking for something like Hat, but telling your computer that Hat has 500 letters, and your computer responds by giving the word hat, and then the next 500 characters after wherever it finds the word hat.  It then hopes that it gets some good information that you have, that comes after the word "hat".
How to protect yourself.
Lots of Social Media companies, banks etc are contacting customers about changing their passwords.  Here is a great article from Mashable that gives those companies responses.  If in doubt, ask!
LastPass
If you have many, many passwords and either use the same password or have many and find it hard to remember them all, there is a company called Lastpass as LastPassword (you'll ever need).  You can get a free version or an affordable version at lastpass.com.
Check sites you use
If you want to check individual sites to see if they have been affected, you can use this tool here.
My good friend Kevin Frank has a new website, designed by myself.  He's very happy with it, and I'm quite pleased with it as well.  Visit him at kevinfrank.net
You may have read recently that there is a big project underway in Austrailia to tag sharks to learn more about them as well as protect people as well when they stray too close to beaches.
The Twitter feed of Surf Life Saving Western Australia – a non-profit group dedicated to beachgoer safety – is now being accessed regularly by GPS-tagged sharks that tweet their breed, size and location, alerting beachgoers to their presence.
The tweets are sent when one of more than 320 tagged sharks is identified by a monitoring system that sends an alert to Surf Life Saving Western Australia computers when the shark swims within about a kilometer of a beach.  What a great idea, and a wonderful use of technology.
There is also a really fascinating site to check out that shows where all the sharks from various places are now, and what their route has been since they have been tagged.  Check out www.ocearch.org/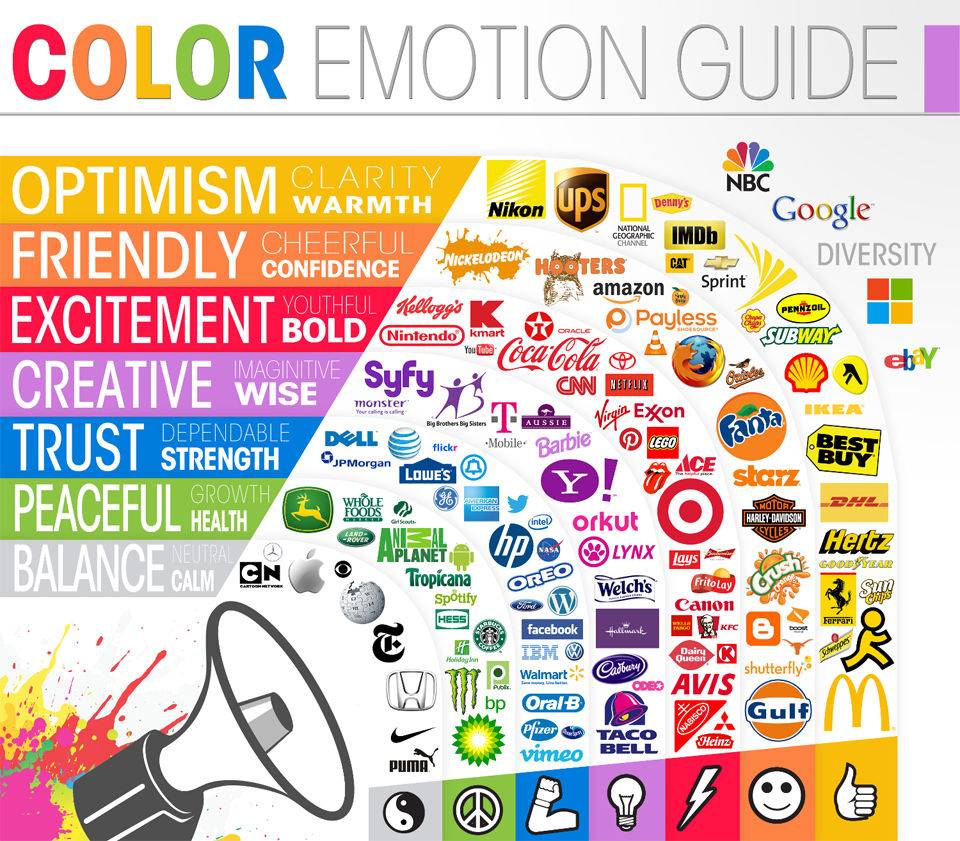 There was a great blog post a while ago that talked about the emotion of colours and how certain companies took advantage of this. They have a great infographic to illustrate it (right) and if you click on the link above, you can see the whole article and the companies that match each colour and corresponding emotion. Very interesting.
Every once in a while, something happens on TV or in the media in some way that everyone talks about and knows about.  For example, most people remember "Who Shot JR?"  I didn't even watch that show at the time and I had heard all about it.  Great advertising takes advantage of these moments in a clever way.
Workopolis does this time and again and while I don't know what they are like as an employer, or in actually finding you a job, their advertising department does a first rate job.  A lot of people watched the award winning show Breaking Bad.  It ended recently and Workopolis did this ad that worked in what they do and information about the show that just made me smile and notice the ad.  And I seldom pay any attention to the ads.
The tagline was pretty brilliant too.  "Looking to break away from a bad career move?"  Genius.
They've taken advantage of other timely moments.  Like Rob Ford's collision with a camera this summer, and when the Toronto Maple Leafs were out of the series.
You don't likely have the budget for a large ad in the paper, but letting your sense of humour show in your advertising is often a great idea.
Oxford Dictionary has made "Selfie" (a photograph that one has taken of oneself, typically one taken with a smartphone or webcam and uploaded to a social media website) 2013's Word of the Year.  It beat out bitcoin, twerking and a olinguito, which is an little animal that is related to the raccoon that lives in Columbia.
Apparently, men take twice as many selfies as women for some reason, and it is on the rise since all of our digital devices come with phones.  The photos are mostly casual, and either taken with a camera held at arm's length or in a mirror.  But they aren't new.  People have been taking "selfies" since Kodak introduced the Kodak Brownie box in 1900.
I'm just glad Twerking wasn't the word of the year.   Yuck.
Well, I did it. I'm practising what I have been preaching.  I always mention that you should have a video presence on the web as YouTube is the 2nd most used search engine next to Google.  A client said she could never remember how to resize photographs for the web with Photoshop, so here is a video that explains just that.  I'm going to do another one soon very similar, only using the free program called Gimp that you can download at gimp.org.
Excuse my fumbling and stumbling with my words, if you ever watch the out-takes of movies, they always crack themselves up at their mistakes.    😉
—

A great video that talks about our social groups and how having lots of friends on social networks doesn't necessarily equate to having real friends.  Be yourself, and don't disregard what is happening around you, for what is on your device.
The Innovation of Loneliness from Shimi Cohen on Vimeo.
I've completed St. Paul's Anglican church's site this week.  They had a site that was created in the colours of their 175th Anniversary, and with the expectation that the groups would provide updates for their own pages.  This didn't happen, so the site has been given a streamlined look, with a much slimmer menu.  Their weekly bulletin keeps their congregation up to date on events and their quarterly newsletter "The Grapevine" is added to the site as well.  With the addition of an up to date Facebook page, and recorded sermons, we hope to attract new people to the church with the new modern look!
I love this, a great statement on people and art.  I love what he says.
"I have a theory that you can make any sentence seem profound by writing the name of a philosopher at the end of it. 

Plato.
Hilarious.